News
Learn more about PCGS news and upcoming grading events.
Read the Latest
Show Schedule
Submit your coins directly to PCGS at a show near you!
Click Here
The Importance of Coin Grading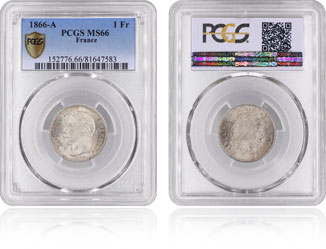 As coin collecting gained momentum during the early 1900s, the condition of a coin, along with its rarity, essentially determined its value as is the case today. And over the years, coin grading evolved to a system of finer and finer grade distinctions. The problem was the often subjective assignment of "grades" by different coin dealers.
Even after the Sheldon Scale of grading was introduced in 1948, the need for numismatists to agree on a universal standard remained. When PCGS was founded in 1986, the problem of standardization was solved - providing a reliable form of protection for rare coin collectors. In short, PCGS revolutionized the coin grading industry by creating an environment where consumers could participate in the coin market with confidence.
With PCGS grading behind your coins, you are guaranteed a level of impartiality, grading accuracy and authenticity that was previously unavailable, and only the leader in third-party grading can provide.
The PCGS Guarantee
The PCGS Guarantee of Grade and Authenticity is fundamental to our concept of third-party grading. The cash-back policy ensures the accuracy of the grade assigned to any PCGS coin as long as it remains in its tamper-evident holder and neither the coin nor the holder has been tampered with.
IMPORTANT NOTE: All PCGS graded World coins are covered by the PCGS Guarantee of Grading and Authenticity. There are some terms and restrictions, so for a detailed explanation of the PCGS Guarantee (English), click here.
PCGS Grading Standard
The PCGS Grading Standard is based on the 1-70 Sheldon Scale and is the guide we use for every coin we grade.
PCGS offers a full description of each grade, including suffixes that are added to certain grades, and No-Grade codes. For more information, please view the PCGS Grading Standards.
To see how the PCGS Grading Standards compare to established European Standards, click here.