PCGS Grading Services
Give Your Coins the Best. Have them Graded by PCGS.
Having your coins graded and authenticated by PCGS, the most-trusted third party grading service in Europe, eliminates the guesswork in determining your coins' value. It's been proven time and time again - PCGS maximizes the value of your coins by offering an unlimited lifetime guarantee of grade and authenticity.
PCGS Authorized Dealers and Collectors Club members in Europe can now submit directly to PCGS at our Paris Submission center. The submission center is open five days a week and allows you to either ship your submissions directly to the submission center or schedule an appointment to drop off your coins in person.
If you are not currently a Collectors Club member, simply select the Collectors Club option on the PCGS submission form. You can also sign up for a Collectors Club membership by visiting the PCGS booth at one of the shows we attend. Lastly, coins may also be submitted through a PCGS Authorized Dealer.
Submission Types
PCGS offers four principal grading services for your coins.
Grading:
For raw coins not encapsulated or graded by any grading service.
Regrade:
For a coin previously graded by PCGS you feel might be worthy of a higher grade, submit coin in the holder. The coin will be removed from the PCGS holder and regraded. Grading fees will apply whether the coin upgrades or not. Coins that do upgrade will also be charged a Guarantee Premium based on the value of the coin.
If the coin grades lower, the terms of the PCGS Guarantee will apply. For full disclosure of the PCGS Guarantee, visit PCGS.com/Guarantee.
For a coin previously graded (currently encapsulated) by another grading service. Minimum Grade: PCGS will holder the coin only if it meets or exceeds your specific request notated in the Minimum Grade column on the front of the form.
Grading fees will apply whether the coin crosses or not. Coins that do cross will also be charged a Guarantee Premium based on the value of the coin.*
Please specify one of the options in the minimum grade column. If you leave this area blank, PCGS will assume the minimum grade is the grade currently on the holder.
MINIMUM GRADE OPTIONS:
CURRENT – Requests coin to cross at grade listed on holder.
ANY – Requests coin to cross at any numerical grade (01-70).
OTHER GRADE – If you would like to specify a different grade than listed on the holder, write your acceptable numerical grade (include suffix if applicable).
MINIMUM GRADE – You may (but are not required to) specify a minimum acceptable grade. Coins graded below the minimum acceptable grade will not be holdered; however, the full grading fee will be charged.
Note the following limitations apply:
You cannot specify a minimum details grade for existing genuine-holdered coins.
First Strike or equivalent will not be recognized.
Reholder:
Re-encapsulation of PCGS-graded coin. Coin will not be regraded.
PCGS Gold Shield™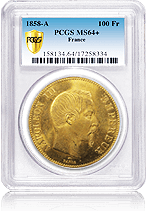 The PCGS Gold Shield service is the ultimate shield against counterfeiting and coin doctoring. With PCGS Gold Shield service, each coin is laser scanned, imaged, and registered into the Gold Shield database. The system digitally captures the unique fingerprints of both sides of each coin. Gold Shield can also be used to perform a metallic composition analysis of your coin. And now, for your records and as a further deterrent to coin doctoring and counterfeiting, high-quality images of all coins submitted under Gold Shield are available under Cert Verification on the PCGS website, free of charge.
If a coin has been tampered with, it gets flagged, simple as that.
PCGS Genuine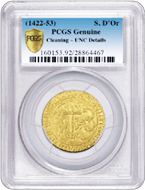 Coins that are genuine but not gradable can still be encapsulated through our Genuine service. Select one of our two Genuine service options:
Genuine with Details (default) – will print the coin problem along with a details grade
Do Not Holder Genuine
PCGS Restoration

PCGS Restoration is a new service designed to help collectors overcome environmental problems that may have occurred with their coins. Preserving originality and the natural condition of every coin is the number one objective of PCGS Restoration.
All coins submitted will be evaluated by experts before any restoration is attempted. Coins will not qualify for restoration if, in the opinion of these experts, the coin should not be restored or if any attempt at restoring the coin could possibly worsen its condition.