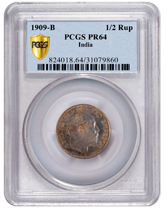 The 1909 Bombay proof 1/2 Rupee certified PCGS PR64 in Hong Kong. (Image courtesy of PCGS.)
(Hong Kong) - Experts from the Professional Coin Grading Service (www.PCGSAsia.com) have authenticated and graded what is believed to be the only known India 1909 proof 1/2 Rupee struck at the Bombay Mint. It was certified PCGS PR64 Secure Plus at the recent August 2012 Hong Kong International Coin Convention & Antique Watch Fair (HICC).
"The few other known 1/2 Rupee proof coins of that year were made at the Calcutta Mint. This is a very special one-of-a-kind coin, and it certainly is one of the highlights of the many coins submitted from across Asia and the Philippines that PCGS examined and certified on-site at the Hong Kong show. We're also excited to be accepting coins for certification daily, Monday through Friday, at the new PCGS Hong Kong Submission Center," said Don Willis, PCGS President.
The 1909-B proof 1/2 Rupee was submitted by collector K.T. Kapil of India who was delighted with the results.
"Wow! I always heard that PCGS was the best grading service available to the coin collecting industry. I had my first experience with PCGS at the Hong Kong show, and I was very pleased with the services they offered. The staff are friendly and responsive," Kapil said.
"I got a lot of coins graded with PCGS in Hong Kong, and I'm looking forward to getting more coins graded with them at their new office."
In addition to on-site grading at the HICC shows, PCGS recently opened a full-time office in Hong Kong where collectors, dealers and the public can submit rare as well as modern-issue coins for certification. Information about submitting coins in Hong Kong can be found online at www.PCGSAsia.com/Grading .
A price guide and extensive historical information about Asian coins also can found on the new PCGSAsia.com web site.
"The PCGS Asian Coins Price Guide has been very well received by collectors and dealers. Major auction companies in China, Korea and Japan are eager to participate and have their auction results included in the guide," said Muriel Eymery, PCGS Vice President of International Business Development.
The Manager of Beijing ChengXuan Auction Company, Ms. Zuo Jinghua, who is the famous and senior expert in coins appraisal, said: "The opening of the PCGS grading center in Hong Kong will expand the market in mainland China, and be so convenient for submitting coins. It's also good news for mainland collectors that the risk of sending coins and the turnaround time will be greatly reduced. At the same time, PCGS is significantly encouraging the coin trading market."
Since its founding in 1986, Professional Coin Grading Service experts have certified over 24 million coins with a total market value of over $26 billion. PCGS represents the industry standard in third-party certification. PCGS is a division of Collectors Universe, Inc. (NASDAQ: CLCT).
For additional information about the new PCGS Hong Kong Submission Center, go to www.PCGSAsia.com call PCGS Customer Service at +1 949-833-0600 (English) or +825 396 06570 (Chinese), or email [email protected] .