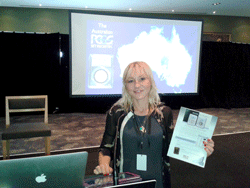 (Melbourne, Australia) -- Representatives of Professional Coin Grading Service (http://www.PCGSAsia.com), the world's leader in coin authentication and grading services, say their first official participation at a show in Australia was a major success during the Australasian Numismatic Dealer's Association (ANDA) International Coin and Banknote Show in Melbourne, Australia, October 18 - 20, 2013.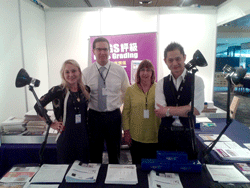 Ms. Muriel Eymery, PCGS Vice President of International Business Development, presented two educational seminars during the show to explain how PCGS certification can enhance coin collections and talk about the popular PCGS Set Registry™ in Australia and the revamped PCGS Population Report for Australian coins.
"It was wonderful to meet Australian collectors and dealers, such as ANDA President Andrew Crellin, ANDA Executive Director Annette Power who organized the show and Ken Downies from Downies. The PCGS team also met with various PCGS Authorized Dealers such as Chris Buesnell of Pacific Rim Coins Ltd., Eric Eigner of Drake Sterling Numismatic Ltd.(www.drakesterling.com), Monetarium, and met with Dr. Prabir De, the Chief Operating Officer and International Business Development Director of the Royal Australian Mint, and Ron Curry from the Perth Mint," said Eymery.
ANDA President Crellin stated: "We're really pleased you were able to attend and meet Australian collectors who are keen on the services PCGS provides.  The PCGS Set Registry is having a positive impact on the Australian coin market."
Collectors and dealers in Australia can submit their coins to PCGS through the PCGS Hong Kong Submission Center which now offers express service twice a month and on-site grading twice a year during the Hong Kong International Coin Show.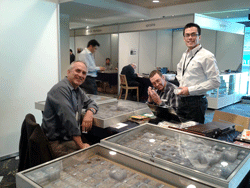 The PCGS Set Registry is quickly attracting attention "down under."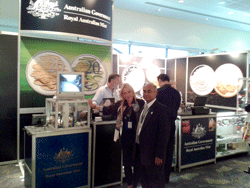 "There already are nearly 900 Australian sets now listed in the registry, including commonwealth and decimal coinage categories," said Don Willis, PCGS President.  "Collectors easily can register their coins in a secure, online environment that lets them compare their sets with other collectors and also track the market prices of their coins.  It's free and fun."
PCGS offers an unlimited lifetime guaranty of authenticity and grade.
Since its founding in 1986, Professional Coin Grading Service experts have certified over 26 million coins with a total market value of over $27 billion. PCGS now certifies the authenticity and grades of coins from over 100 countries.
For more information about PCGS services in Australia and Asia, visit www.PCGSEurope.com  or email [email protected]
.