(London, England) -- The world's leader in rare coin authentication and grading, Professional Coin Grading Service (http://www.PCGSEurope.com), will be accepting submissions from collectors and dealers at the 35th annual British Numismatic Trade Association Coinex (http://www.bnta.net) international numismatic show in London, 27 and 28 September 2013.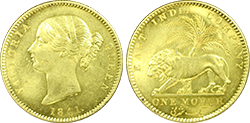 The two-day show will be conducted in the Ballroom of the Millennium Hotel London Mayfair in Grosvenor Square.  PCGS representatives will be at booth #49 to discuss products and services and to accept submissions of coins from PCGS Authorized Dealers and Collector's Club members.
Many high-quality rare coins certified by PCGS will be offered in the auctions conducted by St. James's Auctions (http://www.stjauctions.com), the official sponsor of Coinex 2013, and A.H. Baldwin & Sons (http://www.baldwin.co.uk/auction-83), the official Coinex auctioneers.
Among the coins in the St. James's auction are two important coins from India.  A rare, mint state 1841 East India Company one mohur with a bare head portrait of Queen Victoria on the front and a lion on the back, (KM 462.1; Fr.1595a) is certified PCGS MS64 with a pre-sale estimate of £4000 - 4500. An 1878 restrike ten rupees with a crowned bust of Queen Victoria (KM Pr.34, S&W.6.20) is graded PCGS Prooflike 64 and estimated at  £5500 - 6500.
The Baldwin's auction includes an 1835 East India Company gold proof restrike two mohurs (KM 452.1, Pr 3, SW 1.4) graded PCGS PR61.  It has a pre-auction estimate of £15,000 - 18,000.
"We also are pleased to announce that the PCGSParisSubmissionCenter now is offering PCGS Paris Express Service twice each month instead of only once.  Express Service offers faster turnaround times for authentication and grading," said Eymery, PCGS Vice President of International Business Development.
Coins can be submitted to PCGS Paris for all levels of service by mail or in person if you are a PCGS Authorized Dealer or a PCGS Collectors Club member.
For additional information about PCGS services in Europe, go to www.PCGSEurope.com.