Representatives of Professional Coin Grading Service (http://www.PCGSEurope.com), the world's leader in coin authentication and grading services, will be attending the World Money Fair Berlin from Thursday February 7 to Sunday February 9, 2014 and invite you to visit the PCGS booths C3 and H7.
The World Money Fair will be at Estrel Convention Center, Sonnenallee 225, 12057 Berlin, http://www.worldmoneyfair.de/wmf/en/fair-info/ .
Since its founding in 1986, Professional Coin Grading Service experts have certified over 27 million coins with a total market value of over $27 billion. PCGS now certifies the authenticity and grades of coins from over 100 countries.
PCGS offers an unlimited lifetime guaranty of authenticity and grade.
PCGS will present the latest PCGS innovations: especially our new generation of PCGS holders and the Secure Service for all world coins.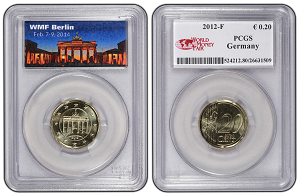 PCGS and DuPont Authentication (DuPont) have recently announced the creation of a new, anti-counterfeiting 3D security hologram for PCGS holders. The addition of the prominent, high-tech emblem is part of the ongoing, aggressive efforts by PCGS to combat the global proliferation of counterfeit coins.
Furthermore, PCGS will accept coin submissions for the European Paris PCGS office at its booth until Sunday 2pm.
Finally, at this occasion, visitors will receive one of the 300 PCGS sample coin holders featuring a customized certificate made specially made for the WMF Berlin 2014 show.
"We are seeing an increasing interest from German, British, French, Polish and Russian collectors since the opening of the PCGS Paris Submission Center and the WMF Berlin provides a great meeting point to tell them about our latest innovations and services and an encounter to see as well our Asian and Chinese clients.  A growing number of PCGS-certified coins are now featured in auctions in Europe, China and Asia as well as in the Pacific. Many of these coins were submitted and/or authenticated and graded at the 3 international grading centers of PCGS in Paris, Hong Kong or Shanghai offices," explained Ms. Eymery.
For information about PCGS services in Paris, visit http://www.PCGSEurope.com or email [email protected] or call at +33 140200994.