(Paris, France) - There's a "French Connection" story-behind-the-story of a historic early American coin that sold for more than $150,000 at the recent American Numismatic Association World's Fair of Money auction. Professional Coin Grading Service has now revealed the interesting circumstances behind the appearance in France earlier this year of the previously unreported 1796 silver dollar.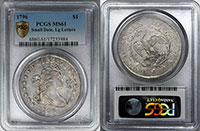 Officials at the PCGS Paris Submission Center (www.PCGSEurope.com) have disclosed that they assisted a surprised -- and very happy -- Frenchman who inherited the coin two decades ago and submitted it to PCGS for authentication, grading and certification this past Spring.
"The coin is a previously unknown example of a Small Date, Large Letters variety 1796 Draped Bust United States silver dollar (B-4, BB-61). It is now graded PCGS Secure MS-61 and is tied for the finest known with a population of only two at that grade," said Muriel Eymery, PCGS Vice President International Business Development.
"The man who owned it in France said it was a mystery to him; he didn't know what it was or how historic and valuable it was. One of his coin-collecting friends advised him to seek a professional expert, such as PCGS. He contacted us, and we convinced him to register as a new member of the PCGS Collectors Club and submit the coin for certification and to maximize its potential value," explained Eymery.
PCGS and Stack's Bowers Galleries consultant Ronald J. Gillio worked with the anonymous owner to have that coin and several others certified during the June 2013 PCGS Paris Grading Week. The 1796 dollar was then consigned by the owner to the Stack's Bowers Galleries Chicago ANA World's Fair of Money auction in August where it sold for $152,750.
"It was a nice surprise, especially as I was planning my retirement," the consignor recently wrote to Eymery. "I had these coins for more than 20 years and knew nothing about their rarity and value. Thank you to PCGS Paris office, Ron Gillio and Maryna Synytsya from Stack's Bowers Galleries."
The auction catalog described the coin as "boldly struck throughout and well preserved, the surfaces show incredible definition that is lacking on all circulated examples. The breast and thigh feathers on the eagle are sharp as are the curls. There are no obvious scratches or adjustment marks on this example, keeping the eye appeal high. Light silver with a few dusky gray traces and a hint of gold."
Gillio is delighted he was able to help the consignor.
"It was a pleasure to assist a French collector who had no clue about the value of his historic coin, but with PCGS authentication, grading and certification this rarity achieved a top price for him in our Stack's Bowers Galleries ANA auction. I look forward to many similar success stories during my monthly visits to the PCGS European Submission Center."
Coins can be submitted to the PCGS Paris Submission Center by mail or in person if you are a PCGS Authorized Dealer or a PCGS Collectors Club member.
For additional information about PCGS services in Europe, go to www.PCGSEurope.com.