The Hong Kong Submission Center of Professional Coin Grading Service (www.PCGSAsia.com) has certified a unique Chinese coin, the only known Kirin Province 1910 Hsusen Tung branch mint silver 1.44 Mace (1 Mace, 44 Candareens) with an incuse "Ki" (吉) and the dragon's tail in the design pointing to the right.  It's pedigree includes the Chang Foundation Collection.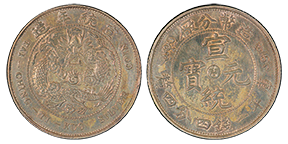 It was graded PCGS Secure™ Specimen 62 after it was examined by PCGS experts in Hong Kong.  The one-of-a-kind coin was submitted to PCGS on behalf of an anonymous collector in mainland China by PCGS Authorized Dealer Song Guo Yi of the Da Han Coin Store in Shanghai.
"This historic coin is one of the top treasures of 20th century Chinese coins, and it is now in a PCGS holder confirming its authenticity and condition," said Mr. Don Willis, President of PCGS, a division of Collectors Universe, Inc. (NASDAQ: CLCT).  "It is mentioned in the reference book, 'Chang Foundation's Rare Gold and Silver Coins of the late Qing Dynasty,' and the owner values it at over US$500,000."        
At the request of Kirin Province, the branch mint at Tientsin produced 1.44 Mace silver coins in 1911, however, those coins have a raised "Ki" in the center of the obverse and the dragon's tail on the reverse points toward the left.  The 1910 coin was struck at the Hsusen Tung branch mint with an incuse "Ki" and the tail pointing to the right. The Chinese character "Ki" (吉) means "lucky.
According to Mr. Chen Ji Mao, Chairman of Ding Fong Auction Limited, one of the coin's previous owners was Mr. Cheung Wong, a famous collector and former President of the Hong Kong Numismatic Society.  In the 1980s he sold it to Mr. Zhang Xiu Qing, a collector in Taipei.
The PCGS Hong Kong Submission Center office is open Monday through Friday from 10:00 a.m. to 5 p.m. Appointments must be made in advance by calling +852 2194 6688.
PCGS also will accept submissions on-site at the next Hong Kong International Coin Convention and Antique Watch Fair, August 23 - 25, 2013, and at the pre-show, August 20 - 22. 
For additional information about the PCGS Hong Kong Submission Center and the new PCGS Shanghai Submission Center, go to www.PCGSAsia.com or email [email protected].