Professional Coin Grading Service (www.PCGS.com) has authenticated, graded and certified 1,427 U.S. 19th century gold coins that were found in eight, decaying metal canisters buried on private property in California's gold country. 
The coins are dated from 1847 to 1894, and the majority of them are $20 denomination Liberty Double Eagles struck at the San Francisco Mint between 1855 and 1894.  Some of this amazing treasure will make its public debut at the upcoming ANA National Money Show in Atlanta, courtesy of Kagin's, Inc. (www.Kagins.com) of Tiburon, California, the PCGS Authorized Dealer that recently submitted the treasure trove for certification. 
Kagin's estimates the current market value at more than $10 million.
Described as the "Saddle Ridge Hoard," the gold coins have a combined face value of $27,980.  It is believed to be one of the greatest buried treasures ever unearthed in the United States.       
More than a dozen of the discovered coins now are either currently the finest known or tied for the finest known examples in the PCGS Population Report. 
"One of the great things about being involved with PCGS is the occasional 'discovery coins' we get to grade. This is one of those fantastic discoveries!" said David Hall, PCGS Co-Founder and Collectors Universe, Inc.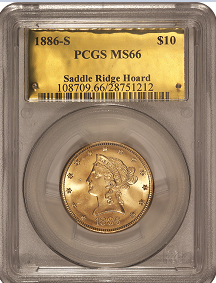 "The Saddle Ridge Hoard discovery is not only one of the most amazing numismatic stories I've heard, it also is an incredible human interest story!  This is one of the best stories in the history of our hobby," stated PCGS President Don Willis.
The coins were discovered in February 2013 by a couple while they were walking on their Northern California property near a hill they named Saddle Ridge because of its shape.  They later contacted Kagin's senior numismatist, David McCarthy, who did the initial evaluation and inventory of the treasure trove.
"This is the proverbial pot of gold at the end of the rainbow," said Don Kagin, Ph.D., President of Kagin's.  "What's really significant about this find is that this treasure combines a great quantity of pristine coins along with a great human interest story."          
A sampling of the coins with special gold-colored foil "Saddle Ridge Hoard" PCGS certification insert labels will be displayed at the Kagin's booth (#707) during the upcoming American Numismatic Association National Money Show in Atlanta, February 27 - March 1, 2014.
Hall said the "super high quality" hoard is "a literal time capsule" of gold coins that were circulating in the late 19th century.
 "What is really special about this discovery is the incredible quality of many of these coins.  This group of coins will definitely change the PCGS Population numbers for many issues. It's a remarkable feeling to hold these coins in your hands. I've always called rare coins 'history in your hands' and the Saddle Ridge Hoard is a historical time capsule of immense numismatic importance," Hall emphasized.
The couple who discovered the hoard want to remain anonymous and do not want to disclose the specific location of the discovery. 
The previous largest reported buried gold treasure in the United States was the 1985 discovery by construction workers in Jackson, Tennessee of gold coins with an estimated face value of $4,500 and market value of about $1 million.  Although not "buried" treasure, more than 400,000 silver dollars were found in the home of Lavere Redfield of Reno, Nevada after he died in 1974.  The coins were sold as a group for $7.3 million in 1976.
Since its founding in 1986, PCGS experts have authenticated and graded over 27 million coins with an estimated market value of $27 billion.  In recent years PCGS has expanded into Europe and Asia, opening offices and coin submission centers in Paris, Hong Kong and Shanghai as well as developing strategic partnerships with other companies in Beijing and Guangzhou, China.
For information about PCGS in Asia, please visit www.PCGSAsia.com, contact PCGS Hong Kong Submission Center at +852 2194 6688 or email [email protected].