Antykwariat Niemczyk Numizmatyczny (www.aukcjamonet.pl) is ending October on a high note, with several notable PCGS-certified coins (www.PCGSeurope.com) up for auction at the Westin Hotel. On October 22, 2016, more than 500 rare coins and artifacts from around the world will be featured at the Jubilee auction.
The highlight of the auction will be a timeline of Polish Kings, told by way of coinage dating as early as the 1500s, including gold and silver coins, ducats, royal medals and talers. Several coins are hitting the market for the first time.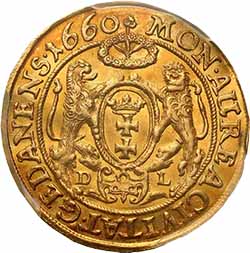 Notable PCGS-certified coins include:
Lot 116: John II Casimir, Dukat (Ducat) 1660 Danzig, graded PCGS AU58
Lot 302: Russia, Alexander II, 3 rubel (rouble) 1881 НФ, St. Petersburg, graded PCGS XF45
Lot 363: Poland, 5 zlotych 1930 Nike bronze, graded PCGS SP65
Lot 388: Austria, 5 ducats (dukaten) 1634, Prague (Bohemia), graded PCGS Genuine XF
Lot 439: United Kingdom, Triple unite 1642 Oxford, graded PCGS Genuine VF Details
Lot 456: Hungary, UNIQUE Transylvania taler 1650 NB klippe, graded PCGS XF Details
Rare Polish banknotes and probes from the interwar period will also accompany the collection of coins from around the world.
The catalog of Antykwariat Niemczyk Numizmatyczny's 10th auction can be found on www.aukcjamonet.pl, where online bids can also be placed. Additional questions can be directed via online inquiry at [email protected] or by phone at +48 668-271-324.
Founded in 1986 by distinguished numismatic experts, Professional Coin Grading Service is the most respected coin authentication and grading company in the world and has offices in Paris, Shanghai, Hong Kong and the United States.
For additional information about PCGS and its services, visit www.PCGSeurope.com. Contact PCGS by email at [email protected], or call the PCGS Paris Submission Center at +33 (0) 1 40 20 09 94.