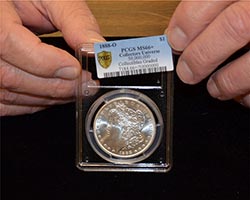 An important and historic milestone has been reached by Collectors Universe, Inc. (NASDAQ: CLCT), the parent company of Professional Coin Grading Service (www.pcgsasia.com). On February 26, 2014, PCGS authenticated and graded a coin that became the 50 millionth item certified by Collectors Universe.
"We opened our doors for business in February 1986 and we received 18,000 coins for grading that very first month, a number far in excess of what we expected. The next month we received 35,000 coins, and we have been growing steadily since. Now just a few weeks after our 28th anniversary of being in business, we've reached the 50,000,000th milestone because collectors and dealers worldwide have put their trust in the assurance and market liquidity that Collectors Universe's expert, third-party grading and authentication provide," said David Hall, President and Founder of Collectors Universe.
"They've come to us year-after-year to certify the authenticity of some of the world's most valuable rare coins, trading cards, game-used baseballs, bats and other sports memorabilia, autographs and historical documents."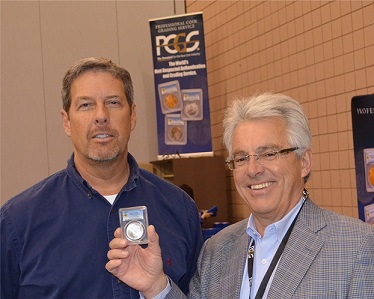 The landmark achievement of certifying the 50 millionth item occurred at the American Numismatic Association National Money Show in Atlanta, Georgia when a team led by PCGS President Don Willis certified the authenticity and grade, PCGS MS66+, of an 1888-O Morgan dollar. It was submitted by Mike Newman of Augusta, Georgia, a member of the PCGS Collectors Club and a participant in the PCGS Set Registry® under the name "Georgia Dawg."
In recognition of the milestone and as a symbolic representation of the year PCGS was founded, the company is awarding the submitter a 1986 proof American Eagle gold one-ounce bullion coin.
A special insert label that reads, "Collectors Universe 1986 - 2014 50,000,000 Coins, Cards & Autographs Graded," was used when PCGS encapsulated the coin. There is also another specially-prepared 50,000,000 designation insert on the reverse of the holder that was personally autographed by Hall.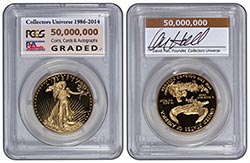 "The PCGS concept of standardized grading, a cash-back grading guarantee, and sight-unseen trading of coins in safe, long-term storage holders, revolutionized the rare coin industry. These dramatic improvements have forever changed the way rare coins are bought and sold," said Willis.
Since its founding PCGS has examined, authenticated and graded nearly 28 million coins with a combined market value of over $27 billion. These include the world's most valuable rare coin sold at auction, a 1794 Flowing Hair silver dollar graded PCGS SP66 that's believed to be the first silver dollar ever struck by the United States Mint and that brought $10 million.
PCGS experts also certified the authenticity and grade of the buried treasure trove of more than 1,400 gold coins found in California that generated international headlines this past week.
The Professional Sports Authenticator (PSA) and PSA/DNA Authentication Services divisions have certified since 1991 over 22 million trading cards, sports memorabilia items and autographs with a combined estimated market value of over $1 billion. Among the PSA and PSA/DNA certified items are the baseball bat that sold for $1.2 million in 2004 that was used by Babe Ruth in 1923 to hit the first home run in the original Yankee Stadium. And at the request of the NFL, PSA/DNA has authenticated all of the footballs used in more than a dozen Super Bowl games.
For more information about PCGS, please contact the PCGS Paris Submission Center +33(0) 1 40 20 09 94 by email at [email protected] or visit online at www.pcgseurope.com .