(Geneva, Switzerland) -- Collectors and dealers attending the Bourse Numismatique Geneva 2014 show on 14 December in Geneva, Switzerland, will have the opportunity to personally meet with representatives of Professional Coin Grading Service (www.PCGSeurope.com), the world's leader in the authentication and grading of vintage and modern coins.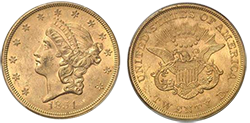 PCGS-certified coins will be among the highlights of auctions that will be conducted in Geneva on 24 and 25 November by Numismatica Genevensis Auctions (NGSA); on 26 November by Chaponnière & Firmenich; and on 13 December by Maison Palombo Geneve.
"It is amazing to witness year after year the increasing quality of the Swiss Geneva auctions which are happening around this show, and seeing more PCGS-graded rare coins in the auctions. The NGSA auction includes a unique set of Indochina pattern Tael that are referenced in the latest book by Mr. Jean Lecompte, a well-known PCGS expert on Indochina and Asian coins.  We thank these auctioneers and the show organizers for trusting PCGS authenticating and grading expertise," said Ms. Muriel Eymery, PCGS Vice President of International Development.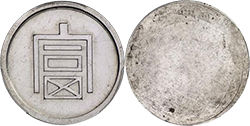 "Our team will be at Bourse Numismatique Geneva on 14 December to explain PCGS grading
standards and how PCGS certification of coins brings maximum value, maximum liquidity and maximum security.  We'll also be talking about the fun and the benefits of the PCGS Set Registry program," Ms. Muriel added.
Mr. Paul Noel, the show's organizer and a member of the Committee of the Swiss Numismatic Association, told Ms. Eymery: "Thank you for your support and participation at the Geneva show."
Visitors to the show will be able to see for the first time in person the new one-ounce .9999 fine platinum coin designed by Swiss artist Roger Pfund and produced by Swiss Bullion Corporation.  The PCGS Paris Submission Center recently graded the two one-kilo gold proof patterns produced for this series.
Bourse Numismatique Geneva 2014 is hosted by Société Genevoise de Numismatique, and will be open to the public from 9 am to 5 pm on 14 December at the Hôtel Président Wilson, Quai Wilson, 47 in Geneva.  Admission is free.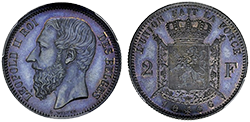 Highlights of the NGSA (http://ngsa.bidinside.com) auction include a unique and historically significant three-coin set of Indochina Tael and two ½ Tael 1943 Hanoi Mint patterns. The Tael is graded PCGS SP62, the ½ Tael is PCGS SP61 and the unique one-sided design ½ Tael is PCGS SP64. 
The Chaponnière & Firmenich (www.aaanumismatique.com) auction will feature a China Republic Hung Hsien regime gold pattern (1916) dollar graded PCGS SP64+, the highest grade of the seven coins of this date and type certified by PCGS.  Another highlight is a Belgium 1866 bronze 2 Francs pattern of Leopold II, PCGS SP67 BN and the only one graded by PCGS.
PCGS-certified coins in the Maison Palombo (maison-palombo-geneve.com) auction include a USA 1854 Double Eagle ($20 denomination) gold coin made at the Philadelphia Mint and graded PCGS MS63, and a Indochina "Branch to Branch 1" insignia pattern Piaster struck in 1946 in Paris and graded PCGS MS65.
Professional Coin Grading Service represents the industry standard in third-party certification, and since its founding in 1986 PCGS experts have graded over 29 million coins with a combined total value of US$29 billion.  For additional information about PCGS and all PCGS services, visit online at www.PCGSasia.com or send an email to [email protected].