(Hong Kong) - The world's leader in rare coin authentication and grading, Professional Coin Grading Service (PCGS), will be accepting submissions from collectors and dealers for on-site grading at the Hong Kong International Coin Convention & Antique Watch Fair (HICC) in the Holiday Inn Golden Mile in Kowloon, April 5 - 7, 2013.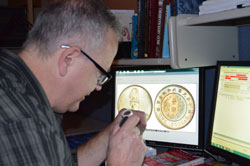 Coins can also be submitted during the pre-show at the Holiday Inn, April 2 - 4, or at other times at the PCGS Hong Kong Submission Center on Canton Road in Hong Kong by appointment only.
"In order to receive your coins before the end of the HICC show, you must submit your coins at the PCGS office, at the pre-show or the first day of the HICC show no later than 5:00 p.m. on Friday, April 5," said Muriel Eymery, PCGS Vice President of International Business Development.
Additional information about PCGS services available at the HICC show and the Submission Center can be found online in English, Chinese, Japanese and Korean at www.PCGSAsia.com/HongKongCoinShow.
The Submission Center will offer special hours of operation during the Easter and Ching Ming holidays on Friday, March 29, from 10 a.m. to 5 p.m.; Saturday, March 30, from 10 a.m. to 1 p.m.; and on Monday, April 1, and Thursday, April 4, from 10 a.m. to 5 p.m.  Call + 852 3960 6570 to schedule an appointment.   
After your coins are authenticated and graded, you can arrange to pick them up at either the HICC show by Sunday, April 7, or at the PCGS Hong Kong Submission Center starting Monday, April 8.
"PCGS provides safety, security and value.  PCGS offers an unlimited lifetime guaranty of authenticity, and certification increases your coin's value and liquidity.  PCGS is recognized worldwide as the standard for coin grading," said Don Willis, PCGS President.
"Since its founding in 1986, Professional Coin Grading Service experts have examined and certified over 25 million coins with a total market value of over $27 billion."
PCGS is a division of Collectors Universe, Inc. (NASDAQ: CLCT). 
For additional information about the PCGS Hong Kong Submission Center, go to www.PCGSAsia.com, call PCGS Customer Service in Hong Kong at +825 396 06570, or email [email protected].