(Paris, France) - Professional Coin Grading Service (www.pcgseurope.com), the world's leading, independent third-party coin authentication and grading company, has announced a new Crossover Policy.
Effective February 24, 2014, coin collectors and dealers can submit to the PCGS Crossover Service any coins previously graded "70" by any other grading service and request to cross them at the highest possible grade, PCGS 70.  Under the new policy, PCGS will holder the coins and give them a grade of PCGS MS70 or PCGS PR70 if they are qualified under the strict evaluation of PCGS experts.
Previously, PCGS would only crossover coins to the level of MS69 or PR70.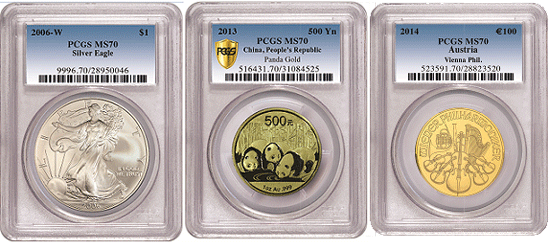 "It is great news to the collectors who have longed for the highest grade by the most respected grading service in the world.  They no longer run the risk of crossing their '70' coins at a lower grade with the PCGS Crossover Service," said Mr. Don Willis, PCGS President.
"It is an important move for PCGS in Asia.  We made this policy change because many collectors and dealers have told us they want peace of mind by having the best grade from the world's best grading company," explained Mr. Willis.
"For a coin previously graded and currently encapsulated by any other grading service, PCGS will holder the coin only if it meets or exceeds the minimum grade that is specified by the submitter, or meets the grade on the original holder.  Coins that do not qualify for PCGS 70 designation will be returned in their original holders," said Ms. Muriel Eymery, PCGS Vice President of International Business Development.
For more information about the PCGS Crossover Service, please contact the PCGS Paris Submission Center +33(0) 1 40 20 09 94 by email at [email protected] or visit online at www.pcgseurope.com .