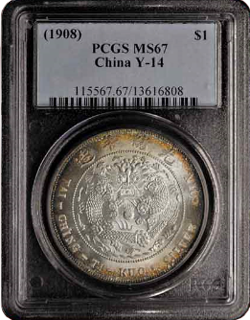 Historic Chinese coins and modern commemoratives certified by Professional Coin Grading Service (www.PCGSAsia.com) for authenticity and grade sold for high prices during auctions conducted the week of the April 2014 Hong Kong International Coin Convention and Antique Watch Fair (HICC). 
PCGS-graded coins are very popular among collectors.  Many coins sold for significantly more than their pre-auction estimates and some coins established new records. 
Auctions were conducted by the show's organizer  Ma Tak Wo Numismatic Company, Inc. jointly with A.H. Baldwin & Sons, Ltd (official auction in conjunction with the HICC Show); Stack's Bowers and Ponterio; Rarehouse; Spink & Son; and by DF Auction. 
"Though the Chinese numismatic market has softened quite a bit from the peak of two years ago, collectors are still willing to pay a premium for rare coins with a pedigree, especially if they are graded by a third party grading service like PCGS," explained Mr. Ma.
"Thank you very much (PCGS) for your prompt and professional service. I am extremely happy," said Dr. Kevin Cheung, a senior numismatic expert at Spink's.
Among the highlights of the Spink's auction were:
China, Kwangtung Province, Silver 20 cents, Year 19 (1930), KM Y426, an extremely rare date that is unique in the PCGS population report, graded PCGS AU58, sold for HK$240,000.
China, Kweichow Province, Silver Dollar, 1949, Bamboo Dollar, "Oval Window Variety," Ex E. Kann, PCGS XF45, HK$1,100,000.
China, Republican era, Silver Dollar, no date (1926), Chang Cho Lin on obverse, legend reads: "Grand Marshall of the Army and Navy," reverse "15th Year of the Republic of China" and "One Dollar," sun and wreath at center. Extremely rare, only three in the PCGS Population Report. Graded PCGS SP45 it sold for HK$1,150,000.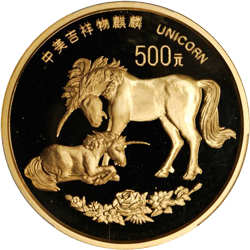 In the Rarehouse auction, a Central Mint Kuang Hsu Silver Dollar (1908) (L&M-11), PCGS MS67, the highest graded, set a record at US$253,000.
Highlights from the Ma Tak Wo-Baldwin's auction include:
China, KiangnanProvince: Silver 50 Cents, (L&M 232), PCGS XF45, had a pre-auction estimate of US$10,000-15,000 and sold for US$153,4000.
China, KirinProvince: Silver Mace, Kuang Hsu Year 10 (1884) (L&M 508), PCGS AU55, estimated at US$15,000-20,000, sold for US$224,200.
China, KirinProvince: Silver 7 Mace, Kuang Hsu Year 10 (1884) (L&M 504), PCGS Genuine Cleaning AU Details, estimated at US$20,000-25,000, sold for US$236,000.
Highlights of the Stack's Bowers and Ponterio auction included:    
China/Provincial Chihli (Pei Yang) Tael, Year 33 (1907), Tientsin Mint three dot type (L&M-437), one of the classic rarities of Chinese numismatics, graded PCGS AU58 Secure, sold for US$149,375.
Pattern Dollar Reverse Dragon Type I, Year 3 (1911) Tientsin Mint, Type I Incused veins on outer leaves (L&M-32), PCGS SP-62 Secure, sold for US$105,000.
1995 People's Republic of China gold 500 Yuan Unicorns, PCGS PR69 Deep Cameo, sold for US$65,275.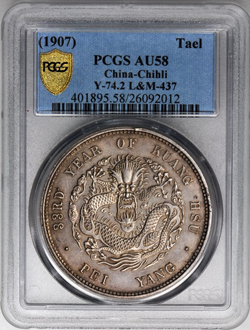 "The results of the auctions once again show that collectors and dealers in Asia and around the world know that certification with the PCGS guarantee of authenticity and grade helps maximize the value and the liquidity of their coins," said Mr. Don Willis, PCGS President.
The HICC show was successful event for Professional Coin Grading Service.
"PCGS definitively stands out as the premier choice for the most respected rare coin collectors and dealers. The collections which we were entrusted with to grade at this last show and the prices realized at the auctions are vivid confirmation of the trust in PCGS standards, our grading expertise and guarantee," said Ms. Muriel Eymery, PCGS Vice President of International Business Development.
"The reholder special was also well received as a way for Asian collectors to experience PCGS' new holder and tri-view gasket for the Trade Dollars.  We look forward to continuing to provide service to Asian coin lovers with the bimonthly Hong Kong Express and during the next on-site vintage/modern grading week during the next HICC show in August!"
Coins can be conveniently submitted to the PCGS Asia Submission Center in Hong Kong or through a network of PCGS Authorized Dealers throughout Asia, Southeast Asia and the Pacific rim. A complete list is available at http://www.PCGS.com/dealers.
For additional information about PCGS services, visit online at www.PCGSAsia.com, email  [email protected], or call the PCGS Hong Kong Submission Center at + 852 2194 6688.