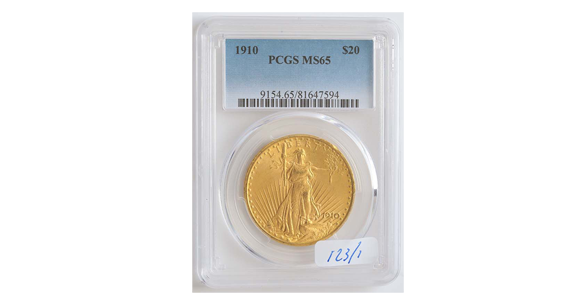 World Global Investments (http://www.certifiedcoins.lu/copie-de-encheres-en-ligne-1) is starting the holidays early with their upcoming online auction, December 7, featuring gold, PCGS-certified coins from all around the world.
Of the 241 lots offered, 135 lots contain U.S. coins, while the remaining 106 lots contain coins from around the world. 
Notable highlights include:
Lot 93: USA, $20 1879-CC, graded PCGS AU55
Lot 123: USA, $20 1910, graded PCGS MS65
Lot 133: USA, $20 1926-D, graded PCGS MS63+
Lot 247: France, 5 francs 1867, graded PCGS MS65+
Online bidding begins Wednesday, December 7, 2016, at 18:00 Luxembourg time (CET). Must be registered up to 12 hours before the sale, at the latest.
WGI hosts auctions throughout the year, partnering with Redpoint. Information on WGI's upcoming auction, including an online catalog of the December 7 auction, can be found at http://www.certifiedcoins.lu/copie-de-encheres-en-ligne-1.
Founded in 1986 by distinguished numismatic experts, Professional Coin Grading Service is the most respected coin authentication and grading company in the world and has offices in Paris, Shanghai, Hong Kong and the United States.
For additional information about PCGS and its services, visit www.PCGSeurope.com. Contact PCGS by email at [email protected], or call the PCGS Paris Submission Center at +33 (0) 1 40 20 09 94.