Collectors will have their choice to bid on anything from coins to medals, some of which date back to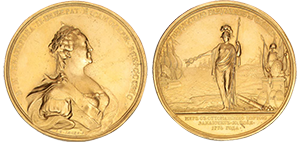 antiquity, when bidding begins for Boule's Auction, taking place at 6 p.m. Friday, December 2 at Hotel Hermitage, Monaco.
The auction will be highlighted by coins from throughout history and the world, including examples from Annam, France, French colonies, Netherlands, Poland and the United States. 
Some of the auction highlights include:
Lot 161: France, 20 francs 1812, graded PCGS MS66+
Lot 196: Taël, non-date Hanoï 1943-1944, graded PCGS MS62
Lot 226: China, Qing Dynasty, medal of vermeil 1875-1908, extremely rare   
Joining the assortment of coins are rare gold Russian medals concerning the peace between Russia and Turkey for Crimea, as well as gold Chinese orders and rare Napoleon medals. 
The online catalog can be found at https://www.sixbid.com/browse.html?auction=3142. 
Founded in 1986 by distinguished numismatic experts, Professional Coin Grading Service is the most respected coin authentication and grading company in the world and has offices in Paris, Shanghai, Hong Kong and the United States.
For additional information about PCGS and its services, visit www.PCGSeurope.com. Contact PCGS by email at [email protected], or call the PCGS Paris Submission Center at +33 (0) 1 40 20 09 94.