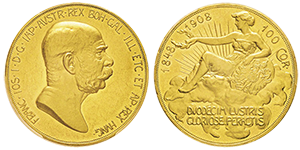 Monaco will be adorned with gold for the upcoming Gadoury Editions' auction (vente.gadoury.com), December 3, 2016. The auction will feature 1,000 rare, PCGS-certified coins. 
Gold coins from around the world will be highlighted during the auction, including: 
Lot 185: Austria, Franz Joseph, 100 Corona 1908, graded PCGS MS61
Lot 190: Brazil, Joao V, 20000 Reis 1726, graded PCGS MS61
Lot 239: China, 50 Yuan 1995 Panda Small Date, graded PCGS MS68
Lot 473: France, Second Empire, 100 Francs 1866, graded PCGS MS64
Lot 493: France, French Third Republic, 100 Francs 1889, graded PCGS AU55 
The December Gadoury Editions auction will take place at Le Meridien Hotel, 22 Avenue Princesse Grace, 98000, Monaco.
Viewing will be held November 2 through December 2, and the auction begins Saturday, December 3, 2016, from 10 a.m. to 1 p.m. for lots 1-374. The remaining lots, 375-1,000, will open for auction at 2 p.m.   

Inquiries regarding the auction can be sent via email to [email protected], or by phone at 00377 93251296. 
Tracing its origins back to 1972, Gadoury Editions takes pride its ambitious goal of raising numismatic awareness to collectors both novice and advanced.
Founded in 1986 by distinguished numismatic experts, Professional Coin Grading Service is the most respected coin authentication and grading company in the world and has offices in Paris, Shanghai, Hong Kong and the United States.
For additional information about PCGS and its services, visit www.PCGSeurope.com. Contact PCGS by email at [email protected], or call the PCGS Paris Submission Center at +33 (0) 1 40 20 09 94.