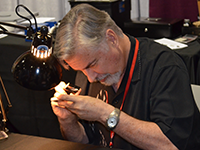 Mr. David Hall, a Co-Founder of Professional Coin Grading Service (www.PCGS.com.cn) and President of Collectors Universe, Inc. (NASDAQ: CLCT) will be one of the honored guests at the Shanghai Coin Expo July 20 and 21, 2013.  PCGS will begin its first evaluation of coins in mainland China and open its new Shanghai Grading Center on July 20.
Shanghai Quanping Collectables Co. Ltd., the official PCGS submission center in China, will accept coins for grading at the booth next to the PCGS booth.  Also, while limited supplies are available, visitors to the PCGS booth at the show can receive a free souvenir coin in a PCGS holder.
PCGS also will have an exhibit to give visitors a once-in-a-lifetime opportunity to see in person some of China's most famous rare and historic coins. 

The two-day coin Shanghai Coin Expo will be held at the Hilton Shanghai Hotel, 250 Hua Shan Road in the Jing'an District.  Mr. Hall and other PCGS experts will be there to examine, authenticate and grade coins submitted at the show.  He will personally meet with collectors and dealers during a Meet the Expert session at the PCGS table from 4:30 pm to 5:30 pm on Saturday, July 20, and from 3:00 pm to 5:00 pm on Sunday, July 21.
Mr. Hall also will give informative, educational presentations about coin authentication and grading on Saturday and Sunday, July 20 and 21, on the topics "The History of PCGS" and "The Introduction of the Chinese PCGS Set Registry."  Mr. Don Willis, PCGS President, will give a presentation on "What Happens To Your Coin When You Give It To PCGS."
Mr. David Chau, the show organizer and a prominent Chinese collector, together with the three partners of PCGS's submission center in China -- Quanping -- Mr. Yu Ji-Wei, the President of Jibi.net, Mr. Chan Hao-min and Mr. Ding Fong, and Mr. Willis will join Mr. Hall and PCGS Vice President of International Business Development, Ms. Muriel Eymery, for the opening ceremony of PCGS in Shanghai on July 20th at 11:30 am during this show.
Mr. Hall became a rare coin dealer in 1972 and in 1986 he co-founded Professional Coin Grading Service, one of the most important innovations of the coin market.  In a February 20, 1996 story, Numismatic News described him as "the man who changed the rare coin market forever," and the July 1999 issue of COINage magazine named him one of the top "Numismatists of the Century."
Since 1986, PCGS experts have examined more than 26 million coins with a combined value of over US$27 billion.