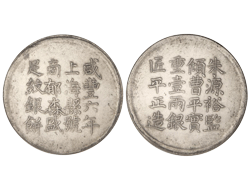 (Paris, France) -- Historic coins certified by Professional Coin Grading Service (www.PCGSEurope.com) for authenticity and grade are among the highlights of the Spring 2014 numismatic auction season in Europe.
"There's a reason why PCGS is the most trusted third-party grading service in Europe.  Collectors and dealers know the importance of the PCGS Guarantee of Grade and Authenticity, and they know that the PCGS certification helps maximize the value and the liquidity of their coins," said Mr. Don Willis, PCGS President.
"The PCGS Express Service through the PCGS Paris Submission Center makes it easy to have coins certified by Professional Coin Grading Service, said Ms. Muriel Eymery, PCGS Vice President of International Business Development."
Ms. Eymery pointed out a numismatic trend of the past several years: "We're seeing more Chinese, Asian, U.S., Russian and, of course, PCGS-certified European coins being offered and eagerly purchased in European auctions."
One of the highlights of the Solar y Llach auction in Barcelona, Spain on May 15 is lot #856, a rare 1856 China Liang Kiangsu Shung Yu Sheng Tael (KM-902, LM-592) graded PCGS AU Details.  Additional information about the auction is online at https://www.soleryllach.com/soler4/catalogo/1081-1.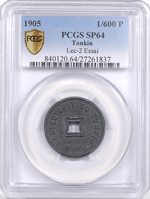 Munten-En Postzegel Organisatie (MPO) will hold an auction in IJsselstein, Netherlands, May 21 - 24, that includes PCGS-certified coins.  Additional information about the MPO auction is available at http://www.mpo.nl/en.
An auction that will be conducted by iNumis in Paris, France on June 3 will include an 1808 Paris Mint 1/4 Franc Laurel Head variety, PCGS MS64, the highest graded by PCGS; one of only 100 1889 Paris Mint 20 Centimes Cérès produced for the Paris Universal Expo, graded PCGS PR64; and 1905 Paris Mint Tonkin 1/600 Piaster pattern in zinc, PCGS SP64. 
Additional information about the iNumis auction is online at http://www.inumis.com/recherche-vso-pcgs.html.
The next five International Express Shipments & Grading Events at the PCGS Submission Center in Paris will be May 21, June 25, July 9, July 23 and August 27.  Coins can be submitted by courier or in person if you are a PCGS Authorized Dealer or a PCGS Collectors Club member.  An easy to use submission form is available online at http://www.pcgseurope.com/Submit?l=en.
The Paris office is open Monday-Friday from 10:00 a.m. to 5:00 p.m.  Appointments must be made in advance by calling +33 1 40 20 09 94 or by email at [email protected] .